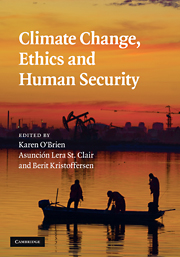 På forlaget Cambridge University Press har det nylig utkommet en bok med tittelen «Climate change, Ethics and Human security». Boka er redigert av CSN-medlemmene professor Karen O'Brien, førsteamanuensis Asunción Lera St. Clair og stipendiat Berit Kristoffersen, og består av bidrag skrevet at ledende eksperter på området. Fra forlagets omtale siteres:
Presenting human security perspectives on climate change, this volume raises issues of equity, ethics and environmental justice, as well as our capacity to respond to what is increasingly considered to be the greatest societal challenge for humankind. […] The concept of human security offers a new approach to the challenges of climate change, and the responses that could lead to a more equitable and sustainable future.
Nærmere informasjon om boken og dens bidragsytere, innholdsfortegnelse, samt mulighet for å kjøpe boken, finnes på forlagets nettsider: Climate Change, Ethics and Human Security (cambridge.org).